The "Availability" tab on the "Booking Page Details" page allows you to specify when you should appear available on your booking page.
Selectable Times
This option controls the number of time slots that your client can choose from when booking an appointment with you. By default, the option is set to "Every 30 Minutes" clients can choose a start time in 30 minute increments. For example, they can choose 8:00am, 8:30 am, 9:00 am, etc. But if you change this field to be "* Every 60 Minutes" then they can choose 8:00 am, 9:00 am, 10:00 am, etc.
Availability (Time of Day)
This option controls the start and stop times for your availability schedule.

You can choose to use the Calendar's availability settings, or you can specify a custom availability range for the booking page by unchecking "Use default availability for each calendar".
If you would like to disable specific days, then uncheck "All Days" and then uncheck the days that you would not like made available: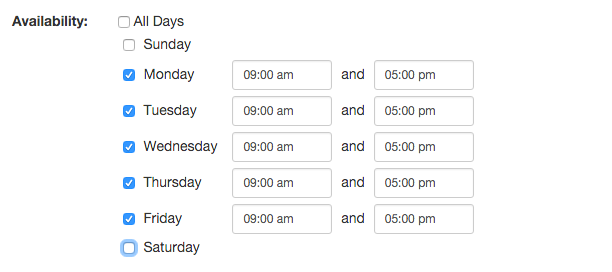 When
By default, Apptoto will show availability during the times listed above and if there isn't an appointment on the calendar already that is marked is busy.

Alternatively, Apptoto can show availability during the times listed above and if there is an appointment with a specific title on your calendar (e.g. "On Call", or "Available for Demo"). This is useful if you want specific times during the week to be made available to your clients on this booking page.

From (Appointment Range)

This option lets you specify how soon your clients can book appointments with you and how far out they can book appointments with you.
By default, clients can book appointments no sooner than 1 hour from now and no later than 60 days from now.
Advanced
Allowing more than one appointment per time slot
By default, Apptoto will only allow 1 appointment at any given time on your calendar. Specifically it will only allow one appointment that is marked as busy if your calendar type supports busy vs free appointments.
If you would like more than one client to be able to book a particular time, then you can increase the "Allow up to X appointments at a time" option.
Restrict the number of appointments on each calendar per day
If you would like Apptoto to restrict the number of appointments each day to a certain number then check the "Limit the number of appointments per day" checkbox.

You can limit the number of "busy" or "booked" appointments.

booked: Only takes into account appointments booked through an Apptoto booking page
busy: Takes into account any appointment on the calendar


Feedback
Thanks for your feedback.