Apptoto vs. Google Appointment Scheduling for Businesses
Online appointment scheduling has transformed how we book appointments with our dentists, doctors, hair stylists, and even auto mechanics. So much so that nearly 70% of people now prefer to book appointments online instead of calling an office.
Businesses use appointment management systems like Apptoto to make it simple for their clients or patients to view their provider's availability, cross-reference their schedule, and pick the date and time that works best for them. So, it should come as no surprise that Google decided to add "Appointment Scheduling" to its popular Calendar app, releasing it to both Workspace and personal accounts.
In this guide, we'll analyze Apptoto's and Google's unique scheduling functionality, user experience, and integration capabilities to help you decide which solution is right for your appointment management needs.
Google Appointment Scheduling
Google's Appointment Scheduling tool is built into Google Calendar. Appointment Scheduling was previously only available via a paid Google Workplace subscription, but the basic offering is now free to all users.
To get started, you must first set when you're available for appointments in your Google Calendar. You'll then select how long your appointment blocks are, how many bookings you'll accept per day, and what information you'll collect from people booking with you. Some customization is possible on your booking page, including the booking page title, description, and picture or logo. You can choose if your appointments are in person, virtual, or by phone. After you've set your preferences, you can share your booking page with anyone and let them pick a meeting time that suits both of your schedules. Google will automatically send a calendar invite to you and your participants' calendars and email them if any changes occur.
The free Appointment Scheduling feature may be more than enough for existing Google Calendar users who only need a single booking page with limited customization. However, let's say you want to create unlimited appointment schedules, book appointments on multiple calendars, send additional email reminders to your participants, or collect deposits/copays via Stripe. You'll need to upgrade to a "Business Standard" Workplace subscription at minimum. Pricing starts at $12 per user per month, with a one-year annual commitment.
Apptoto Appointment Scheduling
Apptoto is an end-to-end appointment management system for businesses and professionals. It enables companies and their clients to schedule appointments effortlessly, automatically sends appointment reminders, and reduces costly no-shows by up to 90%.
After you first sign up, Apptoto will walk you through linking your calendar. Along with its own calendar, Apptoto offers integrations with a wide range of general and industry-specific calendars (including Google Calendar). Once linked, Apptoto will sync all your existing appointments into the platform from your calendar. From there, you can quickly scan upcoming appointments and send customized messages to your clients, which we will cover in more detail in the next section.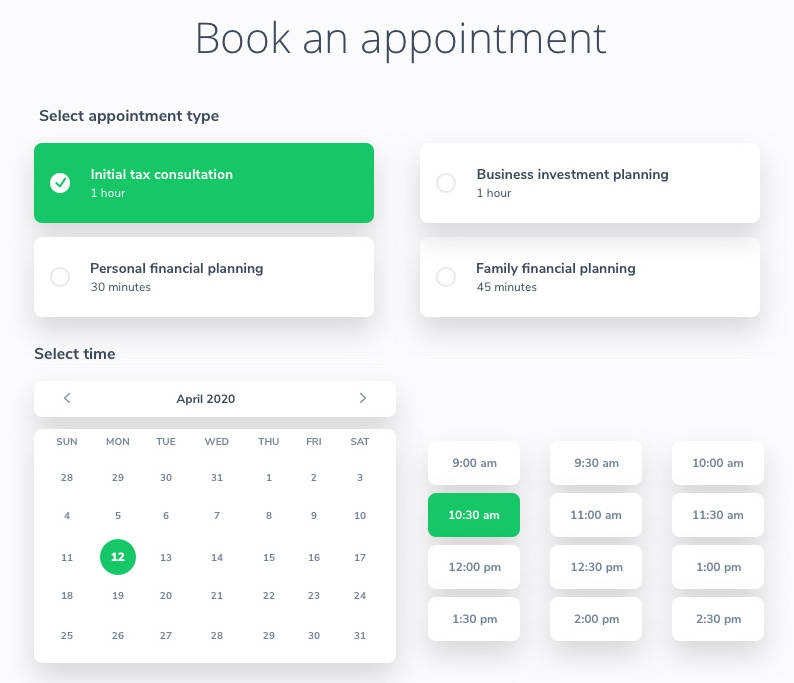 Apptoto's appointment scheduling software was designed with businesses in mind, and the platform offers one of the most flexible and customizable booking solutions available. With Apptoto, you can:
Create multiple booking pages
Customize the booking page, confirmation, and calendar event content and appearance
Link multiple team members' calendars to a booking page
Link different calendar types to a booking page
Offer multiple appointment types and durations
Control when certain types of appointments are bookable
Assign appointments to providers in a round-robin or ordered style
Collect and confirm important client details (ex: mobile number, insurance provider)
Take deposits or copayments via Apptoto Payments
Add Zoom or Microsoft Teams virtual meeting links
Apptoto automatically adds an event to both calendars after your client books an appointment. Once you've enabled automated reminders, your client will be enrolled in an appointment reminder sequence. Pricing starts at $10 per user per month with an annual plan (month-by-month is also available) and scales based on your team's needs.
Appointment Reminders
Google
Sending appointment reminders to clients ahead of an appointment can help dramatically reduce no-shows and late arrivals. If you're using Google's free Appointment Scheduling offering, be prepared. The appointment reminder functionality is extremely limited.
When someone books an appointment with you, Google will add an event to their calendar, and they'll be notified via email. The participant will receive an email if any changes occur and receive an alert right before the appointment (depending on their notification settings). In order to send more than one reminder before an appointment, you must upgrade to a premium Workspace account. Even then, you can only send up to five email reminders. You can customize if the emails are sent minutes, hours, days, or weeks before, but you cannot specify overrides to prevent them from being sent at inopportune times (e.g., weekends or holidays).
Lastly, reminders are only sent via email, not SMS texts or phone calls.
Apptoto
Apptoto's appointment reminder software is incredibly robust and highly customizable. Once you sync your calendars to Apptoto, the platform automatically extracts the phone numbers and email addresses of all the clients/patients with appointments on your calendar. These can then be used to create and send your clients SMS texts, emails, or voice calls.
Apptoto offers several preset confirmation, reminder, and follow-up messages you can implement almost immediately to communicate with your clients. But you can also create fully customizable messaging sequences based on their appointment type or other custom information provided during the booking process.
You control the timing of when (and how frequently) messages are sent and how your clients/patients can respond (e.g., confirm, reschedule, cancel). Likewise, you can push reminder notifications manually or enable Apptoto to send them all automatically with "Auto Messaging."
Finally, Apptoto provides an overview where you see your upcoming appointments and their confirmation statuses (conveniently color-coded by response), review scheduled and sent messages, and evaluate any errors.
Integrations
Google
Google offers third-party integrations via its Google Workspace Marketplace for use with Google Calendar. For example, it is currently possible to sync Salesforce and Microsoft Office 365 meetings to your Google Calendar. Building your own Google Calendar Integrations via the Calendar API is also an option if your company has development resources.
It's also possible to add Google Meet links for virtual appointments automatically. You can also set up Stripe to take payments when someone books an appointment. A complete list of integrations can be found in the Google Workspace Marketplace.
Apptoto
Apptoto is a centralized calendar and booking system that integrates with multiple calendar solutions (both general and industry-specific). You can sync your calendars (and appointments) from Google Calendar, Office 365, Microsoft Exchange, Outlook Desktop, Salesforce, and iCloud. Apptoto also syncs with Clio, Practice Panther, Rock Matter, SQL databases, and EMR/EHR Systems.
Apptoto's Booking Pages work with your existing calendars, whether cloud-based, like Google, or on-premises, like Exchange or SQL. A single booking page can display availability for two or more calendar systems. Apptoto's Payments feature allows you to collect deposits or copays ahead of scheduled appointments via Stripe or Square. Likewise, you can set your meetings to automatically include a Zoom or Microsoft Teams meeting link for virtual visits. Need more? Apptoto also offers a secure REST API.
User Experience
Google
A benefit of Google's new Appointment Scheduling feature is that it is built into the existing Google Calendar interface, meaning users do not have to learn a new system. When you create a new meeting in Google Calendar, there is a new option for "Appointment Schedule." Selecting "Appointment Schedule" will lead you to the form to set up your availability, booking page, and integrations. Once you add Appointment Scheduling, your availability and appointments will display on your calendar. Clicking on the available appointment slots will give you access to your booking link.
Apptoto
Apptoto offers an impressive array of appointment reminder and scheduling features in one convenient, all-in-one platform. The platform automatically syncs upcoming appointments, collects participants' contact details, and unifies everything in one intuitive calendar interface. You can quickly filter and search appointments by calendar, event, time, etc.
Using the left-hand navigation, you can customize your messaging/reminders, availability, booking pages, integrations, and settings. Since the options for customization are nearly endless, Apptoto offers a setup wizard, 1-on-1 demos, and event white-glove onboarding to ensure you're making the most of all that Apptoto can do.
But, thanks to Apptoto's set-and-forget automation, you can continue working out of your existing calendar solution if you wish. Apptoto will synchronize new appointments, track schedule changes, send reminders, and automatically manage appointment confirmations in the background.
Customer Support
Google
Support is very limited for Google Calendar for personal accounts. Google provides a knowledge base with a handful of support articles on Appointment Scheduling and a community forum where you can submit questions to other Google Calendar users. While you can submit product feedback, there is no way to contact a Google employee directly should you need further assistance unless you have a Premium Workplace account.
Apptoto
Apptoto offers top-rated (10/10 ⭐'s on G2.com) customer support via its Support Center. Customers can request assistance via real-time chat, a personal call, or by submitting a support ticket. Likewise, Apptoto offers an extensive knowledge base to help users work through troubleshooting independently.
Apptoto's Customer Support team members are experts in helping you create custom booking pages to your team's specifications and ensure your appointment confirmation and reminder strategies are equally aligned. Appoto's customer agree. Avani Joy of Raging Root Studio says, "I've said it before, and I'll say it again: Your customer support/service is really amazing!"
The Verdict: Google vs. Apptoto Appointment Management
Having the right Appointment Management System is critical for appointment-based businesses to maintain long-term customer satisfaction and grow profitability. For those with basic scheduling needs, Google's personal Appointment Scheduling feature may be what they need.
But, for professionals and businesses seeking greater automation, customization, and flexibility with online scheduling and reminders, solutions like Apptoto are worth the investment. See how Apptoto can streamline your appointment scheduling and reminder workflows with a free 14-day trial.
https://www.apptoto.com/wp-content/uploads/2023/08/Google-vs.-Apptoto-Booking-Pages.png
639
1400
Nicole Mears
https://wpimgscdn.apptoto.com/marketing/images/apptoto-logo-v1.svg
Nicole Mears
2023-08-01 11:17:43
2023-09-21 12:38:43
Apptoto vs. Google Appointment Scheduling for Businesses