YouCanBookMe vs Apptoto: Which is Best for SMBs?
Running a small-to-medium-size business means you're always walking a tightrope, balancing your time between growing your business, nurturing your staff, taking care of customers, and trying to stand out in a crowded market. It's a tough gig, but each move you make to streamline your business operations is a step toward greater stability and success. 
For appointment-based businesses, leveraging software that allows clients to book online and automatically sends appointment reminders can greatly reduce staff workload and improve customer satisfaction. Apptoto and YouCanBookMe (YCBM) are two solutions specifically focusing on helping SMBs grow their businesses by automating appointment management. 
Both platforms are affordable, offer customizable scheduling and appointment messaging, and integrate with many existing calendar solutions. So, which is best for your business? We'll compare Apptoto and YouCanBookMe in nine categories—from features to support to product roadmaps—so you can choose the right solution.
Company Overviews: Apptoto vs. YouCanBookMe
Apptoto started in 2010 to help appointment-based businesses wage war against costly no-shows and increase their repeat business by automating appointment messaging. The platform has evolved into a full appointment management platform, allowing companies to offer online booking, collect payments, deliver targeted marketing campaigns, and send two-way business messages, alongside Apptoto's incredibly robust appointment reminder/messaging features.
When it comes to working with a business's existing calendaring and customer records management tools, Apptoto is tough to beat. After syncing your current calendars to Apptoto, you'll immediately have a view of your upcoming appointments. Within minutes, you can launch online booking, track schedule changes, manage confirmation status changes, and send automated appointment messages to clients regardless of how they book (online or otherwise).
There's no limit to how you customize automated appointment messages either. You can fully customize appointment confirmation, cancellation, no-show, reschedule, reminder, follow-up messaging sequences with voice calls, SMS texts, and emails! 
Likewise, you have complete control when customizing the booking experience for your clients. You can set your team's availability, appointment types, duration, assignees, and more so clients can book what they need. Once someone books, they'll receive personalized reminders based on their appointment details. Best yet, once you have Apptoto booking and messaging set to your specifications, you can fully work out of your alternative software of choice thanks to Apptoto's set-and-forget automation. 
With its robust but easy-to-launch features, Apptoto is ideal for SMBs that want best-in-class scheduling and appointment reminders without completely changing their processes and calendaring software.

YouCanBookMe (YCBM) makes online scheduling software designed to help individuals and businesses create customized booking experiences for their customers. Like Apptoto, YCBM focuses on helping small-to-medium businesses transform their online booking, and they pride themselves on being highly customer-focused.
The user-friendly platform quickly walks you through linking your calendar and generating your first booking page. YCBM offers a variety of customization options that allow you to control each page's style and appearance, intake forms, availability, appointment types, and assignee preferences. While Booking Pages are the star of the show, YCBM does enable businesses to send email and text appointment messages to clients who booked through one of their booking pages. Free tier users can send confirmation, cancellation, and rescheduling-related messages but must upgrade to send reminder, follow-up, and no-show messages. 
YouCanBookMe is a great solution for businesses that want a quick, intuitive, and affordable way to generate booking pages and manage bookings made through those pages. However, companies with more complex needs around appointment reminders, confirmation, and follow-up message customization and functionality for all their appointments may find that YCBM doesn't have everything they need.
Features, Functionality, & Customization
Both Apptoto and YouCanBookMe offer powerful features to help businesses streamline, automate, and customize their appointment management. Below is a comparison of key features offered on Apptoto's and YCBM's paid plans.
Feature
Apptoto
YouCanBookMe
Online Scheduling
Booking Pages
Unlimited
100
1-on-1 Appointments
✅
✅
Group Appointments/Events
✅
✅
Custom Booking Duration
✅
✅
Multiple Appointment Types
✅
✅
Availability Management
✅
✅
Check Multiple Calendars Availability
✅
✅
Auto-Generate Virtual Meeting Links
✅
✅
Custom Intake Forms
✅
✅
Embed Pages
✅
✅
Mobile Booking Pages
✅
✅
Multiple Routing Options
✅
✅
Appointment Calendar View & Search
✅
🚫

Booking Page Appearance
Booking Page Layouts
7
4
Brand/Accent Color
Multiple
(dependent on layout)
1
Add Business Logo
✅
✅
Remove Apptoto/YCBM Branding
✅
✅
Confirmation Page Customization
✅
✅
Booking Page Preview
✅
✅
Timezone Display/Detection
✅
✅
Custom CSS
✅
🚫
Booking Page Translation
Manual
✅
Appointment Messaging
Email Messages
✅
✅
SMS Text Messages
✅
✅
Voice Calls
✅
🚫
# of Automated SMS Message Credits/Mo
Set # Included
(based on plan)

Additional Cost
(regardless of plan)

# of Manual SMS Messaging Credits/Mo
Unlimited
🚫
Contact Matching & Address Books
✅
🚫
Recipient Auto-Replies
(1 to confirm, 2 to cancel, links)
✅
Links Only
Platform Auto-Replies
✅
Not Listed
Message Translation
✅
🚫
Two-Way Messaging
✅
🚫
Marketing/Messaging Campaigns
✅
🚫
Initial Consent, Double Opt-In
✅
🚫
Payments
Payment Collection
✅
✅
Payment Types
Pay-in-Full
Deposit
Co-Pay
No-Show Fee

Pay-in-Full
Other
Web Platform
✅
✅
Mobile App
iOS, Android
🚫
Extensions
Chrome, GCal
Chrome
User Interface and Ease of Use
Apptoto: After signing up for Apptoto, you're invited to sync your existing calendaring software, link your desired calendars, and walk through a Setup Wizard. If you have existing appointments booked on your calendar, you'll see them listed on the Appointment Agenda tab and can create more immediately. From there, you can navigate to several areas of the platform, such as:
"Messaging" to customize appointment reminders, confirmation, and follow-up message sequences and timing

"Booking Pages" to create your online scheduling pages

"Contacts" to see clients' information in your address books or create new contacts

"Dashboards" and "Tools" to view reporting and analytics
Within each product section, you may see additional areas or tabs for customizing Apptoto's functionality even further. For example, in the Booking Pages section, you'll be given the option to set up an "Availability" (1-1 appointments) or "Signup" page (group meetings/events) and then provided additional tabs to be able to customize your booking pages/processes even further.
Apptoto is incredibly feature-rich, with many settings and dials to help you customize everything to your unique specifications. All those features can mean a higher learning curve than other platforms, but the team also regularly updates Apptoto to make it more intuitive and easy to use (such as a recent update to the booking page creation flow). Likewise, Apptoto has an immense set of support and learning resources available to help you learn more, all readily available via the "Help" button in the top-level navigation.
YouCanBookMe: The team at YCMB has worked hard to ensure their software is intuitive. Walking through the onboarding process to sync your calendar and launch your first booking page takes five to seven minutes. Of course, if you want to dive deep into granular customization, it will take a little longer (it took us around 30 minutes to check out all the customizations available). 
Once you've created your booking page, you'll see all your booking pages listed on the Dashboard and your upcoming bookings on the "Bookings" tab in list form. Clicking into a booking page, you're given multiple areas to focus on customizing your page, including general information, calendar preferences, times and availability, notifications, and styles/appearance. It's worth noting that notifications are customized on a booking page-by-booking page basis (rather than rules-based like Apptoto), so there may be some repetitive work to get the messaging sequences you want set up.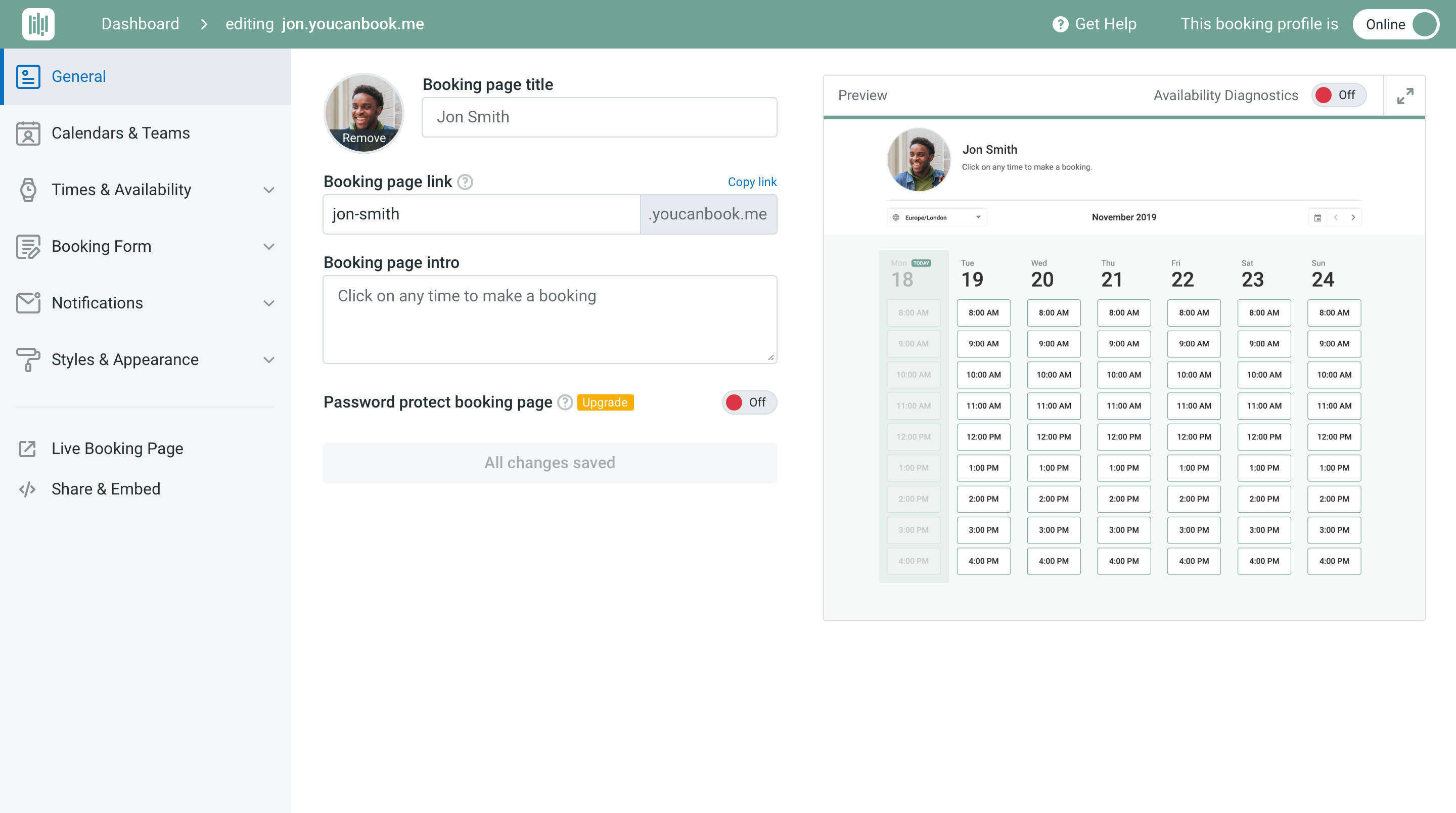 You may need to click around (or upgrade to a paid plan) to find and apply more advanced features like virtual meetings, team meetings, payments, or add certain integrations and SMS message credits. But, YCBM's support resources are also available via the ? button in the top-level navigation.
Integrations
Integrating your appointment management solution with your existing tools and software is key to maximizing your efficiency. 
Syncing your existing calendaring tools–such as Google Calendar, Microsoft365, or iCloud–to Apptoto or YCMB allows your chosen scheduling platform to detect your team's availability, sync appointments to the right calendars, and prevent double bookings. But both platforms also offer additional integrations with tools such as Payment Processors and Virtual Meeting providers to add usefulness and value. Compare available integrations below. 
Integrations
Apptoto
YouCanBookMe
Calendaring
Google Calendar
Office 365/Outlook/Outlook Desktop
Microsoft Exchange
iCloud
iCal
CalDAV
CardDAV

Google Calendar
Microsoft Calendar (Office 365 and Outlook)
Fastmail Calendar
Fruux Calendar
CalDAV
CRMs/Industry
Salesforce
Clio
Practice Panther
RocketMatter
EMR/EHR Systems
Not Listed

Payment Processors
Square
Stripe
Google Pay
Apple Pay
Stripe
Google Pay
Apple Pay
Virtual Meetings
Zoom
Microsoft Teams
Zoom
Microsoft Teams

Reporting & Anlaytics
Google Analytics
Not Listed

SQL Databases
Most supported
Not Listed

Other
Smith.ai
Airbnb
Teamup
Gmail
CSV / XML Imports
✅
Not Listed
Zapier*
✅
✅
Webhooks
✅
✅
API
✅
✅
*Zapier allows you to connect your chosen solution with thousands of additional apps in their app integrations library.
Support and Training
No matter which appointment management solution you choose, if you don't have access to training and customer support resources, chances are you won't be a customer for long. Apptoto and YouCanBookMe boast top-notch customer support, which we'll compare in greater detail below.
Apptoto offers a mix of support and training materials for everyone whether you want live support or prefer to figure it out yourself. When you sign up, you can walk through an easy-to-follow onboarding flow to get your appointment messaging and booking pages up within 10 minutes or less. 
Have questions? To walk with Apptoto's customer success team members, you can navigate to the Support Center to chat, email, or call. You can also access Apptoto's extensive knowledge base, training videos, Blog, Product Notes, and Feedback forum, where you can learn about Apptoto at your own pace or leave feedback! Finally, Apptoto's team is regularly recognized for its high-quality support and customer care via client testimonials and third-party review sites. 
YouCanBookMe also offers a variety of resources to help their customers become power users. Customers can contact support via email or look for answers in YouCanBookMe's robust knowledge base. Likewise, they have 20+ learning modules in their YouCanBookMe Academy with helpful videos and links to additional guides and information. Finally, they have a "New Features" Section of their blog and a Community Forum. 
Pricing
For small to medium-sized companies, keeping expenses in check is more than just smart management; oftentimes, it's critical to staying in business long-term. Apptoto's pricing and YCBM's pricing structures appeal to the SMB market, each offering unique benefits.
Note: This comparison looks at the entry-level paid plans of each solution (see YCMB's Feature Comparison for what's included in their free versus paid accounts).
Pricing
Apptoto
YouCanBookMe
Free Trial
14 Days
14 Days
Free Tier
🚫
✅ (with limitations)
Pricing Structure
Usage-Based
Usage-Based + Add-On SMS Messaging

Monthly Pricing
Yes
(starts at $39/mo or $13/calendar/mo)
Yes
($12/calendar/mo)
Annual Pricing
Yes
(starts at $30/mo or $10/calendar/mo)
Yes
($10.80/calendar/mo)
Starting Plan Includes
– 3 calendars & users
– All features
– Unlimited booking pages
– Unlimited manual SMS messages & emails
– 450 automated SMS message credits/mo
– 11 standard integrations
– Premium support (phone, chat, email)
– 1 calendar & unlimited users
– All features
– 100 booking pages
– 0 SMS messages credits/mo
– 9 standard integrations
– Standard support (phone, chat, email)
30-Day Money-Back Guarantee
✅
✅
Scalable
Absolutely! Apptoto scales with you. As you grow, automated message credits and your access to premium integrations increase.
✅
YCMB is well suited for individuals or small businesses looking for a free solution or who only need to link one calendar and send booking notification emails. However, you will incur extra costs if your team needs to send SMS reminders, sync more calendars, or requires more premium support.
Apptoto is best for businesses needing rich scheduling and appointment messaging features and looking to scale their business without ditching their existing calendaring/CRM solution. While Apptoto has a slightly higher per calendar fee per month (annual is lower than YCBM) and a 3 calendar minimum, Apptoto's included message credits, 20+ integrations, and premium support, make it more cost-effective for most businesses in the long run.
Security & Compliance 
Keeping your company's and clients' data private and secure is paramount. That's why Apptoto and YouCanBookMe have strict security policies to protect your data.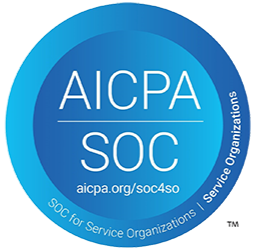 Apptoto prides itself on being SOC 2 and AWS ISO 27001 compliant and achieving and maintaining other certifications and security practices. Additionally, Healthcare providers can entrust their patient messaging is secure with Apptoto's HIPAA-compliance program. Finally, major US mobile carriers have recently started requiring that all 10-digit phone numbers (10DLC) used to send text messages be registered to avoid filtering and additional costs. Apptoto helps customers submit their 10DLC registration quickly and easily directly from the web platform.
YouCanBookMe is also SOC 2, ISO 27001, and GDPR compliant. Currently, YouCanBookMe does not list whether they offer HIPAA-compliant messaging or enable 10DLC compliance on their website or platform.
Customer Reviews
Apptoto and YouCanBookMe have thousands of happy customers but don't take our word for it. Below, we've analyzed how Apptoto and YCBM compare on third-party review sites G2.com and Capterra. 
| | Apptoto | YouCanBookMe |
| --- | --- | --- |
| Capterra | | |
| Total Reviews | 70 | 327 |
| Overall | 4.8 | 4.6 |
| Ease of Use | 4.5 | 4.5 |
| Customer Service | 4.7 | 4.5 |
| Features | 4.8 | 4.5 |
| Value for Money | 4.7 | 4.5 |
| Likelihood to Recommend | 95% | 88% |
| G2 | | |
| Total Reviews | 14 | 1910 |
| Overall | 5 | 4.5 |
| Meets Requirements | 10.0 | 9.1 |
| Ease of Use | 9.8 | 9.2 |
| Ease of Setup | 9.8 | 8.9 |
| Ease of Admin | 9.8 | 9.1 |
| Quality of Support | 10.0 | 9.1 |
| Has the product been a good partner in doing business? | 10.0 | 9.4 |
| Product Direction (% positive) | 10.0 | 7.9 |
Recent Product Updates
Your business never stops looking for ways to innovate to provide the best service for your clients and outperform your competitors. So, why would you settle for anything less from your online scheduling and appointment reminder software? Let's look at the latest product releases from Apptoto and YouCanBookMe to see how they're innovating in the appointment management space.
Apptoto's Latest Product Updates:
YouCanBook.Me's Latest Product Updates:
Apptoto vs. YouCanBookMe: Which is Best for Your Business? 
Choosing between Apptoto and YouCanBookMe (YCBM) for your small-to-medium business requires you to balance the need for features against simplicity. Apptoto shines with its comprehensive scheduling and appointment messaging features, two-way texting, payment collection, marketing campaigns, and robust customization options. It is a solid pick for businesses needing a versatile, all-in-one appointment management system. Likewise, it integrates smoothly with existing calendars, offers personalized reminders that can run on autopilot, and is HIPAA-compliant, making it particularly suitable for healthcare providers or businesses prioritizing data security.
YCBM, in contrast, is a user-friendly option for those who prioritize ease of use and quick setup. Its intuitive platform allows users to create customized booking pages quickly. It's an affordable choice for businesses with straightforward needs or just starting to automate their booking processes. YCBM's free tier might appeal to individual entrepreneurs or small businesses.
For growing businesses managing multiple team members' appointments and scheduling and looking to integrate more deeply with other tools, Apptoto's richer feature set and comprehensive support infrastructure make all the difference.
Ready to compare Apptoto vs. YCBM for yourself? Get started with a free trial today!