Translate Appointment Messages into Multiple Languages with AI
When communicating with your clients or patients about upcoming visits, providing superior customer experience isn't just about sending appointment reminders (although it is a critical first step). Delivering personalized messages using your client's preferred method (text, call, or email) and language enables you to demonstrate how much you value their convenience and experience working with your businesses.
That's why we're excited to announce our newest feature: AI-powered appointment message translation. With a click of a button, you can translate appointment text messages, emails, and auto-replies into five different languages: English (US, UK, Australia, European), Dutch, French, Spanish, and German. Effortlessly update your messaging to cater to your diverse clientele!
Why Translate Appointment Messages?
Clients who receive appointment-related messages in their primary language are more likely to engage with your reminders, confirm their visits, or provide feedback.
More than 50% of healthcare patients with limited English proficiency reported not receiving an appointment reminder or reporting difficulty understanding the reminder they received, according to a study on Language Appropriate Appointment Reminders. By sending out translated appointment messages, you reduce the chances of clients missing appointments due to misunderstandings.
91% of healthcare patients with limited English proficiency prefer appointment reminders in their language –Journal of Midwifery & Women's Health
Automating multilingual appointment reminders also helps streamline operations, save staff time, and ensure consistency in client communication. Plus, a customer-first messaging strategy can foster loyalty from your existing clients and allow you to welcome a border clientele.
How AI-Powered Message Translation Works in Apptoto
With a few clicks, you can enable multilingual reminders in Apptoto. Our translation feature is available via the Messaging> "Appointment Auto Messages" tab or Messaging > "Templates" tab.
Appointment Auto Messages
When you click into a text or email message on the Appointment Auto Messages tab, you'll now see a "Language" selector. To translate your message to another language, click the box and select a new language. Apptoto will ask if you want to translate your text/email and auto-responses using AI. Click yes, and the platform will translate your message.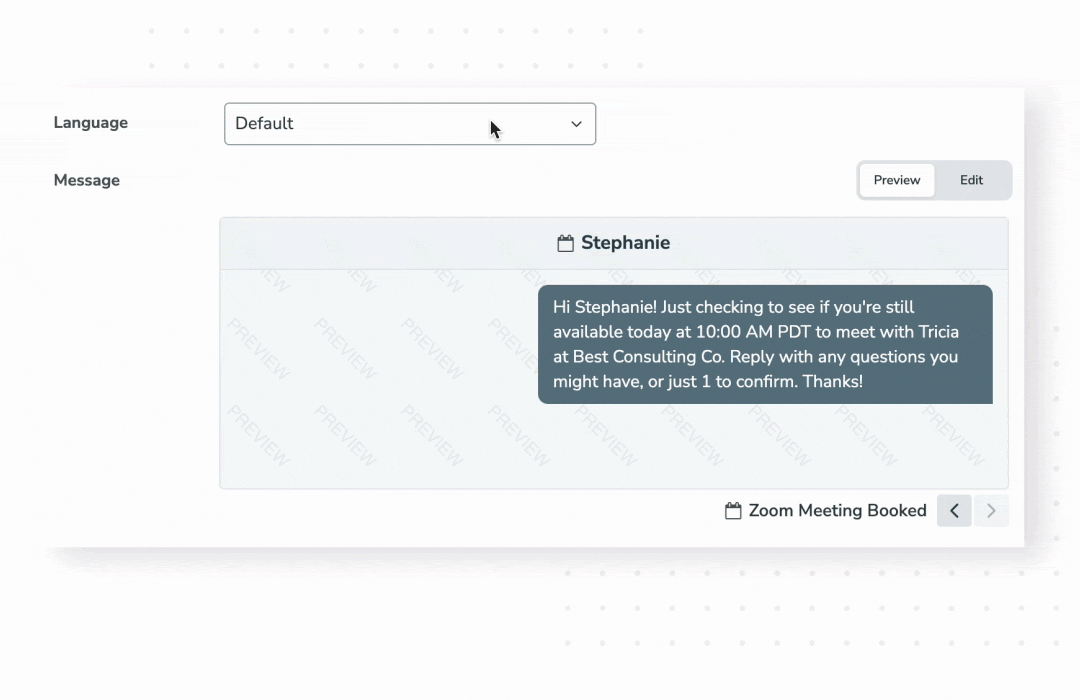 Templates
Similarly, when you navigate to the Messaging > "Templates" tab, you can edit any of your Custom or Built-In Message templates. Clicking the edit (pencil/paper icon) will direct you to a preview of your template message. Note: the current language is not editable in Preview mode.
Clicking the "Edit" toggle will enable you to change the language of the template message. Don't forget to "Save" your changes before moving on!
Benefits & Best Practices
A major benefit is that you can set your message to whatever you want, and Apptoto will use AI to translate the content. You aren't limited to what you can translate! Text messages, emails (incl. subject lines), and auto-responses will automatically update using the new language.
To ensure Auto Messages get sent to contacts in the appropriate language, we recommend setting up messaging Rules for each language your clients speak. You must include an indicator or field within your appointment body or title to note the client's preferred language.
First, create a messaging sequence in your preferred language. Then, simply duplicate the message sequence and translate the text and email messages using AI! Be sure to update your new Rule to look for a language indicator (i.e., "Spanish" or "German") in the event body before saving, though!
Get Started with AI-Powered Appointment Message Translation
We're excited to see how you utilize multilingual messaging, and we always appreciate any feedback you may have. If you have any questions or need support, don't hesitate to contact our Customer Success team.
https://www.apptoto.com/wp-content/uploads/2023/10/translate-2.png
700
1080
Nicole Mears
https://wpimgscdn.apptoto.com/marketing/images/apptoto-logo-v1.svg
Nicole Mears
2023-10-10 12:45:17
2023-11-06 12:19:44
Translate Appointment Messages into Multiple Languages with AI