Apptoto Campaigns Help Streamline Covid-19 Vaccination Scheduling
For many adults in this country and around the world, the process of signing up and scheduling our COVID-19 vaccination appointments has been challenging, to say the least! We have experienced slow or broken online scheduling pages; screen refresh fatigue is real, and time-consuming! There have been long wait times on hold over the phone, or excessive redials just to get through to a scheduler. Not to mention the lack of communication about when one can schedule, or unclear information around the process in general. These are just some of the frustrations that many of us have experienced in recent months while trying to acquire the vaccine.
If you are a retail pharmacy or organization running a vaccination program, you've surely felt the pain on the other side of things as well! Many patients have taken the approach of scheduling numerous appointments to ensure that they and their loved ones are protected. This not only clogs the system so that others are not able to sign up for appointments, but also leads to numerous no-shows and unprepared or unqualified patients that do arrive.
So how can retail pharmacies and medical clinics manage their scheduling, communication, and screening processes in this unprecedented time? And still keep their time free for administering vaccines, and not managing clerical scheduling duties? One such pharmacy in San Antonio, Texas, has figured out how to do just that, with a little help from Apptoto!
Using an automated appointment booking and reminder service can help
Carvajal Pharmacy is a family owned and operated business that has been helping patients in its community for over 50 years. When they started receiving the Covid-19 vaccine to administer at their retail location, they too began to experience some of the issues mentioned above, so they tasked their interns to find the best scheduling software available to meet their requirements. Specifically, they wanted a system that could send text messages, was simple to use, allowed for customizable messages to be sent correctly according to second dosage timing requirements, had customizable booking pages that could be configured based on pharmacy and vaccine availability, was able to qualify patients so appointments weren't being filled unnecessarily, and they needed all this to be set up as soon as possible!
Once Carvajal Pharmacy configured their system (see below) using Apptoto's Booking Pages, Campaigns, and Auto Messages features, they began to easily meet the state requirements to vaccinate 100 patients per day. The positive feedback they received from colleagues and the community about their system working so well impressed the state of Texas, who then scaled up Carvajal's vaccination allotment to serve more than 500 patients per day! Carvajal Pharmacy is able to provide a better overall vaccination experience with communication and efficiency, which ultimately allows them to continue to provide the great patient care they are known for.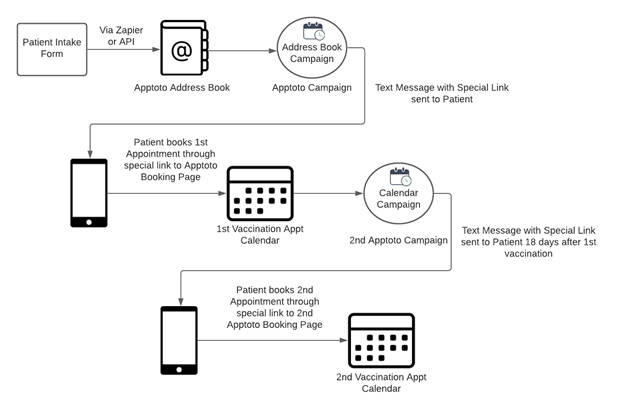 Want to see more? Click here to follow step by step instructions to get this Apptoto system up and running for your business.
https://www.apptoto.com/wp-content/uploads/2021/05/COVID-booking-page.png
751
1600
Rachael Cort
https://wpimgscdn.apptoto.com/marketing/images/apptoto-logo-v1.svg
Rachael Cort
2021-05-26 09:49:53
2023-03-03 08:35:21
Apptoto Campaigns Help Streamline Covid-19 Vaccination Scheduling