How to Use Apptoto Campaigns for Covid-19 Vaccination Scheduling
Managing the complexities of scheduling COVID-19 vaccines according to the CDC's precise guidelines is no easy feat. But Carvajal Pharmacy in San Antonio, Texas, is one of Apptoto's clients using our Campaigns and Scheduling products to create a streamlined appointment-scheduling system for COVID-19 vaccinations. By eliminating time spent manually reaching out to patients to schedule appointments, they've maximized their efficiency and productivity in administering COVID-19 vaccines.
Carvajal Pharmacy uses its own intake form to accept patient sign-ups. The intake form qualifies patients per their specifications. In this instance, it was based on the age categories set by vaccine officials. Once the patient completes the form, the system then adds them to an Apptoto Address Book via Apptoto's API. An Apptoto Campaign monitors the address book. Whenever a new patient is added, Apptoto sends them a message asking them to book their first vaccination appointment.
Once the first vaccination appointment takes place, a second Apptoto Campaign monitors the vaccination calendar. Apptoto then sends messages to patients 18 days after their first vaccination (according to vaccination guidelines) asking them to book their second appointment.
Here is a quick diagram explaining how it works: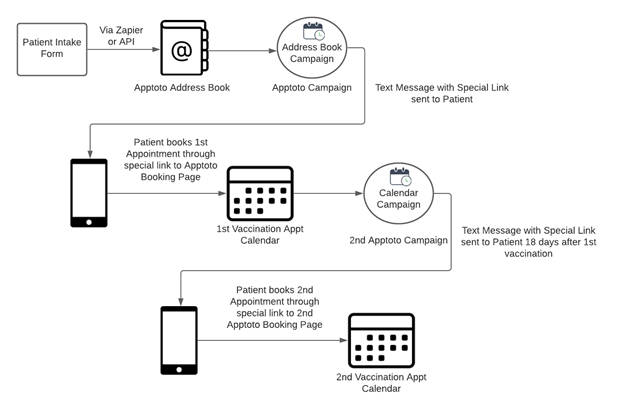 Want to know more? Dive deeper into how Carvajal Pharmacy used Apptoto to create COVID-19 vaccine scheduling software before creating your own below.
Setting Up An
Appointment Scheduling System for Vaccinations
Setting Up the First Campaign
The Address Book Campaign is very straightforward.  You can set it up by creating a new Address Book Campaign in Apptoto and choosing "Standard Booking Campaign" for the template.
Be sure to choose the Address Book your intake form will add contacts to (via our API or Zapier).
The Booking Page you use for the first campaign should be an Apptoto Booking Page that will put clients on the calendar you are using for the initial vaccination appointments.  We'll call it "1st Vaccination Calendar."
Once you've made those selections, click "Create Campaign."
You should edit the messages on the Messages tab and launch the campaign once ready.
Setting Up the Second Campaign
 The second campaign is a little different.  This time, you should create a "Calendar Campaign" like so:
Note that you should tell the Campaign to monitor the first Vaccination Calendar, and you should also specify "All Time" for the Date Range.
Lastly, set the Booking Page to be a Booking Page that places patient appointments on the "2nd Vaccination Calendar."
Once you've made those selections, click "Create Campaign."
Now, we need to tell this second campaign to send messages 18 days after the 1st vaccination appointment.  To do that, head over to the "Messages" tab and select "Based on Appointment date" for the "Start Sending" option here:
Then click on the first two default messages included in the campaign and set their timing to be 18 days after, like so:
You can then remove the extraneous messages that are included as default using the trash icons.
The second campaign is now ready to launch.
At this point, with both campaigns created and launched, any new contact added to the Address Book will be ushered through this full vaccination scheduling process.
Preventing Patients from Booking More than Once
If you are concerned with patients misusing the system and booking more than one appointment or booking an appointment for someone else when they shouldn't, you can make a few changes to your booking pages to avoid that.
Edit the settings for both your 1st Vaccination Booking Page and your 2nd Vaccination Booking Page by making the following changes:
First, the first two checkboxes should be checked.  This will ensure that only clients in your Address Book will be able to book appointments through your booking pages.
Second, the "Authentication" option of "Require Campaign Booking Link" will tell Apptoto to only let patients who click on the special link sent through the Apptoto Campaigns book appointments.  This will only allow patients in the system to book.
At Apptoto, we are so thrilled when our clients can use our platform in unique and complicated ways that might help make their lives a little bit easier and less stressful!  We're here to help if you are interested in setting up a vaccination appointment scheduling system in Apptoto.  Contact our amazing support team today if you need assistance by visiting our Support Center.
https://www.apptoto.com/wp-content/uploads/2021/05/Campaigns.png
751
1600
Rachael Cort
https://wpimgscdn.apptoto.com/marketing/images/apptoto-logo-v1.svg
Rachael Cort
2021-05-20 16:45:24
2023-09-21 14:29:24
How to Use Apptoto Campaigns for Covid-19 Vaccination Scheduling