4 Ways Appointment Booking Apps Help Tutoring Centers Retain Clients
Appointment booking apps have become essential for most tutoring centers to streamline operations and avoid delays that may lead to a loss of clients. Booking apps enhance customer service by enabling tutors to serve and ultimately retain more clients efficiently. Tutoring centers struggling with miscommunications and no-shows can reduce, if not eliminate, this problem by investing in an effective appointment booking app like Apptoto.
What Is an Appointment Booking App?
Online appointment scheduling software simplifies the entire appointment process, making it easy for tutors and students to update appointment details within the app. Booking sessions, sending reminders, and other messaging needed to teach students can all be accomplished using one simple tool. Appointment booking software has key features such as SMS Text appointment reminders, staff and customer administration, and calendar integration. Some of its advanced features include payment and income processing and mobile compatibility. As such, appointment scheduling software lets you update your work scheduling process and increases the productivity of your tutoring business.
Why Tutoring Centers Need an Appointment Booking App
Tutoring classes, primarily online, have become popular over the last several years. However, tutoring students is not easy because of some industry-specific hurdles, such as:
Parental and school pressure.
Student motivation deficits.
Student behavioral issues.
Student enrollments.
As such, tutoring is challenging enough without also experiencing scheduling problems. A proven appointment booking app like Apptoto's Online Scheduling tool can make this process much more enjoyable for students and tutors.
Appointment Booking Apps for Tutoring Centers
Appointment booking software allows your business to run appointments smoothly and attract more students. Most students have busy, fluctuating schedules, and managing tutoring sessions in such conditions can be cumbersome. This can create issues for your company and frustrate your students.
According to Forbes, 96% of clients say that customer service is essential to maintaining a customer's brand loyalty. That is exactly why using a software app that allows students to self-manage their appointments can take the stress out of the scheduling process and get you more and more loyal customers.
There are many appointment-booking apps that tutoring centers can use. For instance, Apptoto is designed to make business scheduling easier and stress-free. With Apptoto, tutors and students can:
Book appointments online with fewer interruptions.
Send and receive messages, including lessons and other updates.
Reschedule appointments.
Interface with third-party apps like Zapier.
Receive and send reminders in whatever format and frequency each person requires.
Update calendars across multiple systems.
Integrate with meeting apps such as Zoom and Microsoft Teams.
Choose Your Automated Appointment Reminders Method
Apptoto reminders integrate with practically any appointment calendar, allowing you to arrange and send reminders for all of your appointments, whether made over the phone, in person, or by email. Tutoring centers can use Apptoto to send multiple messages or SMS reminders, preventing "no-shows." This service can also be used to automate emails, send them at specific frequencies, and enhance customer service.
Benefits of Efficient Appointment Setting Apps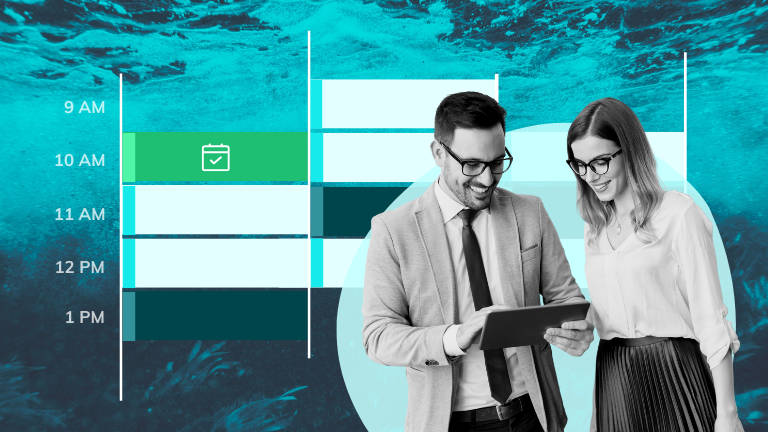 There are several benefits to using appointment-setting apps.
Increased End-User Satisfaction
Customer satisfaction determines brand loyalty. Satisfied clients will return to conduct their business with you and recommend or share their experience with friends, relatives, and on social media. Since appointment-setting apps provide personalized and memorable client experiences based on individual requirements and preferences, your staff can engage with consumers in a memorable, personalized way. This gives clients the impression that they are in business with a company that values their needs.
Improved Time Management
Using an appointment-setting app allows tutoring businesses to scale their appointment approach to meet their demand. This means that staff members will spend less time manually managing appointments and automatically syncing their calendars with appointments, so students can easily plan, reschedule, and cancel appointments as required.
Undistracted Learning Environment
Appointment scheduling apps allow tutoring centers to create undistracted learning environments, as students can access your platform from multiple locations. Since the students no longer have scheduling issues, they will have an undistracted learning environment.
Reduced No-Shows and Cancellations
Not only can appointment-setting apps improve end users' experience, but they can also minimize no-shows and cancellations. Clients may handle scheduling independently, rescheduling or canceling appointments as needed. Appointment scheduling systems also send out automatic appointment reminders.
How to Set Up Appointments Using Apptoto
Apptoto excels at helping tutoring businesses automate their appointment scheduling processes. The software also has a 14-day free trial if you want to test the software. Here are steps you can take to get started:
Visit the Apptoto website.
Click the "sign up" section.
Enter your email address.
Create a password and enter the details.
Confirm your password and get started.
Tutoring businesses should use appointment booking apps because they enhance end-user satisfaction. Satisfied clients, primarily students, will likely share or recommend your business to others. This will lead to more clients and eventually increase your revenue. Automated appointment reminders also improve time management and create an undistracted learning environment. Businesses should also invest in automated appointment-booking software like Apptoto to increase their productivity.
https://www.apptoto.com/wp-content/uploads/2022/12/Online-Booking-Apptoto.jpg
1067
1600
Apptoto
https://wpimgscdn.apptoto.com/marketing/images/apptoto-logo-v1.svg
Apptoto
2023-04-11 08:00:46
2023-09-21 13:07:51
4 Ways Appointment Booking Apps Help Tutoring Centers Retain Clients